Week of 12/14/15
Tagged with:
Plays, ice skating and subtraction!
A wrap-up from the last week of the Fall Semester:
-Writing: Each student continued writing Small Moments, creating a collection of 3-5 drafts. At each writing workshop, we looked more closely at the Small Moments written by our mentor authors to learn how they made their writing powerful.
-Math: We continued working on subtraction by playing the game "Make Zero".  At home, continue practicing counting backwards particularly down from 24 (or so), as this will directly support your child's subtraction work!
-Social/Emotional: We re-visited two topics from earlier in the year: how to calm our bodies when they are excited (in the yellow or red zone), and safe ways to touch at school. 
-Ice Skating:  We had a great time hitting the ice on Friday! Here we are in our skating glory!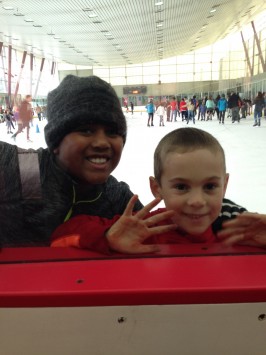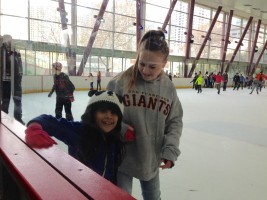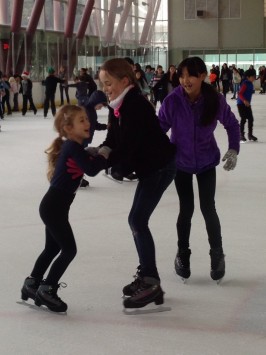 -Plays:  We got to be an audience for the 3rd, 4th and 5th Grade play rehearsals on Thursday– it was great fun seeing our friends and Buddy class take on different roles! And on Friday we watched the 8th Graders in the annual performance of Saint George and the Dragon– another treat. Ask your child what part they might want when they are in 8th Grade!
This Week:
-Writing: Black journal entries about our adventures over Winter Break, followed by selecting a Small Moment draft to convert into a published book.
-Math: Measurement! A fun unit that begins with a pretend fishing expedition where we are figuring out what fish are big enough to be "keepers". Expect to hear more about mackerel, alewife and perch in the coming days.
-Hopes and Dreams: Harkening back to the start of the school year, students will use next week to revisit the goals they set at the start of First Grade. Some students may find their Hope and Dream has already come true! On Monday we will begin the process of choosing new dreams for the second half of the year.
-Project Time "Who We Are": We will soon be entering a new Project Time unit focused on identity. This unit begins with a conversation about how it is different to study ourselves than to study something else (like ants or dinosaurs). We will work as a class to make rules about how to talk about ourselves in a way that feel comfortable for everyone. Students will then tackle the questions "Who are we?" and "What makes us who we are?".
Posted January 03, 2016