South Class News - FEBRUARY
February 12th, 2016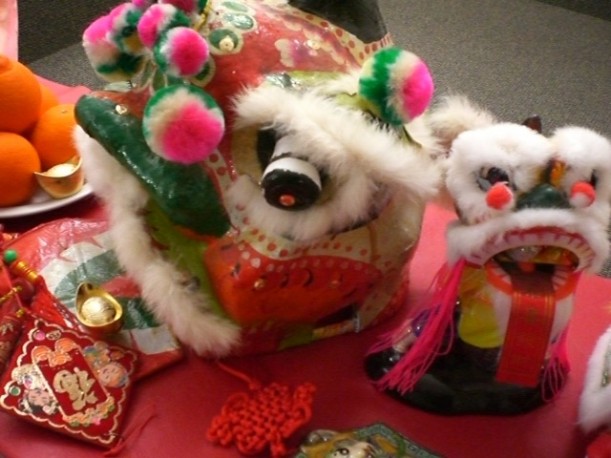 February has been a busy month in the South Class, and we're not through yet! The celebration of Chinese New Year continues to be a highlight of the year for many of our students. Helen put on a wonderful presentation about many of the traditions surrounding this exciting event. She played the role of Buddha and Malcolm played the role of the hungry Lion who was offered a variety of foods but only liked the lettuce leaves he was given. Lettuce is favored during the Chinese New Year, as it is considered a symbol of good luck and wealth. On Wednesday, Feb. 10th, each student rang the gong before coming in for Morning Circle as a way of bringing in the new year with mindfulness and a peaceful heart.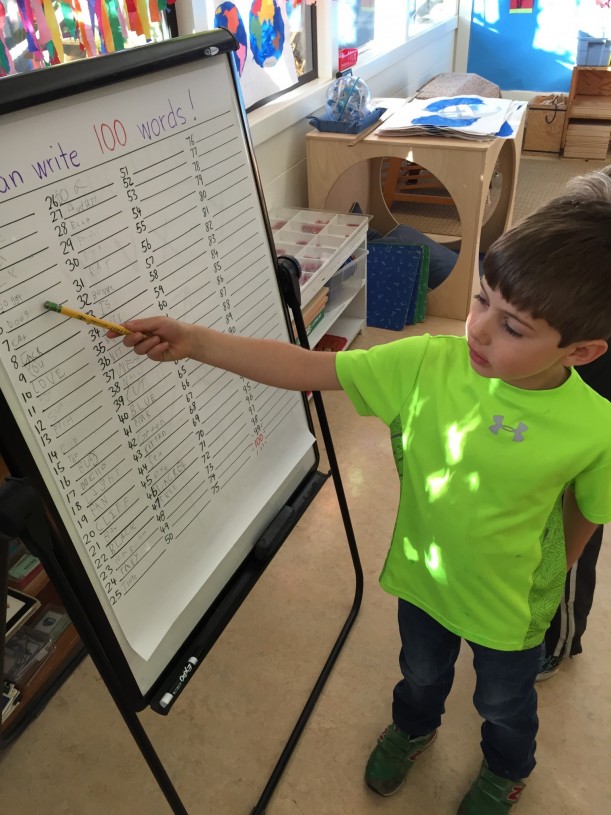 On Wednesday, Feb. 10th, we celebrated the 100th Day of School. Many students had completed their 100s charts with small items such as cheerios, beans, candy hearts, stickers and pompoms…100 is a big number for young learners, and they have done an excellent job breaking this task up into manageable batches of 10s to get their charts finished.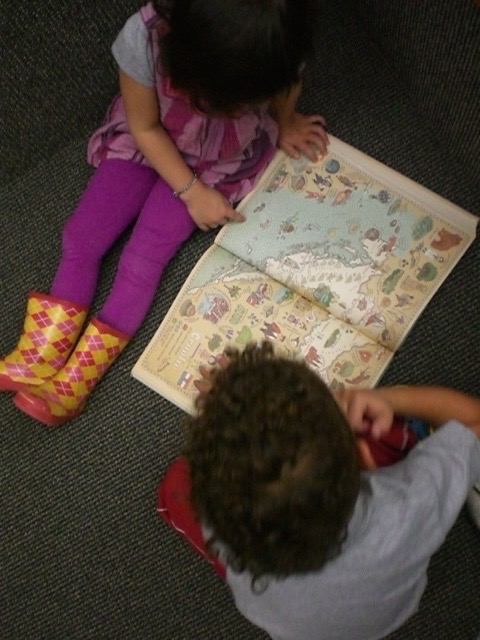 As you enter the classroom after Presidents' Week, you will also see the results of some hard work invested in creating World Maps. Bald Eagles and Rabbits careful traced seven continents, then meticulously pricked a trail around each border to punch out the shapes and positon them on the two-hemisphere globes they painted. Come and see other maps we have put up around the room – from ones which recreated our existing bedrooms, to maps of San Francisco that show where all our students live, and representations of the larger SF Bay Area.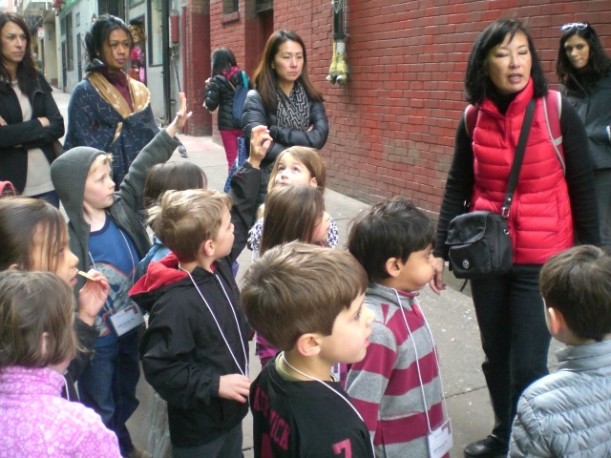 SPOTLIGHT ON: Kindergarten Field Trip to Chinatown!  The Bald Eagles were so excited to go on their first field trip this year, and though it was close in proximity and short in duration, they loved every minute of our time spent in San Francisco's Chinatown. A local tour guide who has been showing us the Chinatown neighborhood for ten-plus years happily greeted us at Portsmouth Square Plaza. Our first stop was the East West Bank, to look at traditional Chinese architecture. Then we scampered down a small alleyway until we found our next destination - a local fortune cookie factory. We saw how flat cookies come warm off a machine, have a fortune added by hand as the cookie is bent, then watched them cool on a rack while keeping their unique bent shape. We got to sample some flat versions of cookies, noticing that fresh cookies are even tastier than those we get in a restaurant! We carefully wove our way through a very busy fish and farmer's market, noting uniquely shaped fruits & vegetables, and gazing at live creatures (including fish, frogs and lobster). We entered a large store front and promptly headed up the sloping ramp to see a giant paper dragon which contained various parts of common Chinese animals. Our last destination was a small temple housed on the second floor of a very inconspicuous building; the alter inside was filled with special offers in honor of relatives who have died, as well as messages from families hoping for good fortune in the new year.
Morning Circle:  Students continue to surprise us with the variety of objects they've found that tie into the letter sound for the week. We've been so impressed with the creative ways our children have come up with different sounds; items that might not at first glance fit (like a plane, for instance) can of course be transformed into a jet to make it work!
Grasshopper Circle:  We have begun to introduce some sandpaper letters to the Grasshoppers, so they'll be more familiar with the letters that go with the sounds we emphasize phonetically at school. Physically touching a letter – noting any curves, long or short lines, etc. – is the perfect start for young ones to build letter recognition. Students during this circle time are also learning to be part of a group…it can be hard to wait your turn to be line leader when there are 10 other children before you, but our Grasshoppers are building their flexibility muscles every day and we are so proud of the growth they've made since first entering our classroom last year.
Afternoon Circle:  Geography has been on our minds all month! We've talked about different land masses, made a model of earth from clay (then cut it in half to see the cores, mantle and crust layers). We brought out the map of the South Class that was made four years ago, to see if anything has changed in our room. Viewing a map from a "bird's eye perspective" sounds easier than it looks; we started our own map making by drawing our bedrooms. After looking at so many books that show how to draw bunk beds, doors and windows from a horizon eye level, it was much trickier to think about what a bookshelf looks like form the ceiling looking down. We've also had a wealth of pirate books on hand this month, since pirates rarely know how to read, but rely on maps to help them locate some all-important buried treasure! Children had a chance to make their own island maps, which included a legend to help with quick symbol identification.
Questions to ask your child at home:
Can you tell me some of the traditions that a part of the Chinese New Year celebration? What special things did Helen bring into the classroom to help us learn more about this important time of year? (prompts: cherry or plum tree blossoms, red and gold decorations, strings of firecrackers, lion mask, gongs, incense, good luck banners in Chinese characters, etc.)
If you were a human compass, which direction points north? Where is south? West? East? (prompt words: compass, left or right)
When you are getting into bed at night: think about floating up to the ceiling and then looking down on your room like a map…what would your bed look like from above? How about your bookshelves? How far is your bed really from the windows? Talk a little about the map you drew of your room with your parent…what things were easy or hard for you to draw? Where is North in your room?
What have you learned about the moon? Do you remember some of the names that describe the shapes of the moon? (prompts: waxing, waning, crescent, full, new lunar moon)
(Bald Eagles) What are some common animal parts used to make a traditional Chinese dragon?  (camel head, eagle claws, snake neck, carp or fish scales, deer horns, rabbit eyes, bull ears, clam belly, tiger paws)
Sound of the Week:
Feb. 22 - / n / keyword: net
Feb. 29 - / f / keyword: fish
March 7 - / e / keyword: elephant
Important Dates:
Mon. – Fri., Feb. 15th-19th, 2016  |  No School – Presidents' Week
Monday, Mar. 7th |  No School – Teacher Workshop Day & Rabbit Parent/Teacher Conferences
Wednesday, Mar 9th | Parent Education Night
South Class News - FEBRUARY
Posted February 12, 2016