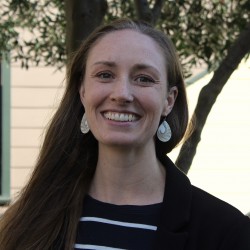 Caitlyn VanderMaas
Middle School Art Teacher
"The arts, it has been said, cannot change the world, but they may change human beings who might change the world." Maxine Greene
Delighted to be a part of The San Francisco School community and to continue its rich tradition of visual arts exploration as an integral part of human development! It was thirteen years ago during an internship with an exhibition designer at the Metropolitan Museum of Art that I first encountered the dichotomy of art and art education in our country. How can the amazing process of creative thinking and making that well-known artists are praised for, be absent during the most precious and developmentally valuable time of a child's life? This question led me to reconsider my life path and passionately advocate for creative exploration as a necessary part of child development.
As a studio and digital art teacher, I have designed and implemented ceramic murals, produced a student film festival, coached 5th grade basketball, and designed Visual Arts media labs. I have worked with my K-8 students to explore the world through papier-mache, student-made plein-air sketchbooks (using hammers and sewing needles!), paper exploration and mask building, origami-ELA integration projects, community murals with local artists, and stop-motion animations. With high schoolers, I have led digital arts courses such as graphic design, yearbook, broadcast journalism, and digital film and video production.

I earned my Master of Arts in Art & Art Education from Columbia University's Teachers College, my Bachelor of Science in Education from SUNY New Paltz, and my Bachelor of Technology from SUNY Farmingdale in Visual Communications.
I am also a certified yoga teacher and enjoy all things outdoors, especially climbing, hiking, and snowboarding. After spending the last 18 years in New York, I am excited to be closer to my hometown of Gilroy, CA, and the vibrant creative energies of San Francisco.