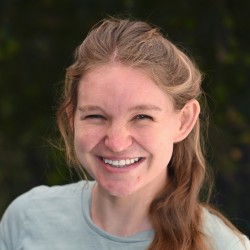 Sarah Cherney
2nd Grade Head Teacher
"Do the right thing, kiddie!" -yelled out the car by my dad everyday that he dropped me off
I was born in Agoura Hills, a small suburb in Southern California. I was a shy kid who loved musical theatre, loved even more that I was Jewish (it made me feel unique) and was raised by a single dad who fought for his kid with learning differences to make sure I had what I needed. Though I struggled greatly in school, I had a pretty natural path towards teaching.
I have always preferred hanging out with kids. I also felt compelled to make kids with a similar, atypical learning profile as me feel seen, valued, and heard. I wanted to be the teacher that I was never able to have. I was lucky enough to land at UC Berkeley where I graduated with a B.A. in Sociology and a Minor in Education in 2017. After Cal, I worked at The Hamlin School where my career in education was solidified. Last year, I worked at Head-Royce School while earning an M.A. in Education and Teaching through the BATTI program. Eventually, I dream of pursuing a PhD in Educational Policy.
Suffice to say, that inclination toward kids became much more significant as teaching helps me to be my best self. I love connecting with families and developing individual relationships with all my kiddos, not just as students but as whole people. 
I live in Oakland with my cat, Goose. When I'm not at school I enjoy reading, climbing, drawing, roller blading, watching crime documentaries, making my family laugh, and doing research on anything that I think is interesting (currently on a Jordan Peele kick).