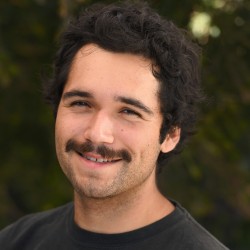 River Castaneda '14
4-6th Grade STEAM Teaching Assistant
I was born and raised in San Francisco and am happy to be returning both to the city and the school that I love.
I am a recent graduate from Bennington College '22, where I studied Ecology, Design, and Music. I am also an SFS alum, Class of 2014! 
Beyond my studies in college, I am an avid microscopist / microbial enthusiast, synthesizer nerd, and sound system designer! At Bennington, I was also one of the lead carpenters for the theater department, where I built sets and props for numerous productions.
In my spare time I love skateboarding, surfing, record collecting, and farmers markets. I'm so excited to start my journey as an educator here at SFS! I'm kicking it off working with 6th Grade Science, Engineering, and Technology classes with Carly Reiter (Director of Design, Engineering, and Technology) as well as the 4th & 5th Science and Engineering classes with Jalen Allen '08 (4th & 5th Science Teacher).