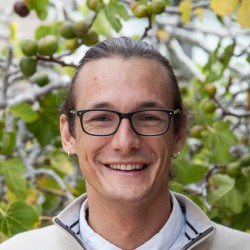 Luke Bailey
Sixth Grade Science Teacher & Third Grade Assistant Teacher
Walking into SFS for the first time, I had the impression of entering a beloved tree fort.
I heard the voices belting out songs from the music room, saw the children cavorting with goats in the yard, and knew I was in a very special place. Learning daily from the teachers and children here is a marvel.
I was raised on Martha's Vineyard, a small island off the Massachusetts coast. I obtained a degree in Foreign Service from Georgetown University in Washington D.C., where I studied international environmental issues. Following college, I worked for several years as a policy analyst on deforestation and land rights in tropical countries. I always tried to find time to work with children, performing in children's theater groups, interpreting at the National Zoo's Invertebrates Exhibit, and organizing a high school scholarship program in Dakar, Senegal. My first experience teaching in front of a class was as a doctoral candidate leading undergraduate discussion sections, where I found great fulfillment in educating about developing countries. I have since taught in after-school programs and as a substitute in my hometown. I moved out to San Francisco in early 2016 to pursue a career in education and to be close to family and friends. I am in my first year of a teacher credentialing program that has a longstanding relationship with SFS: the Bay Area Teacher Training Institute. A few things that are important to me are the High Sierras, West Africa, insects, international travel, graphic novels, and great music of any genre.