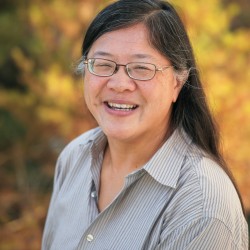 Jadine Louie
Seventh and Eighth Grade Math
I grew up in San Francisco and am excited to teach at SFS!
Prior to teaching, I worked in the building trades, fabricated science demonstration equipment, and sold toys. I majored in Music, earned a BS in Mechanical Engineering at UC Berkeley, and an MEd with distinction in STEM (Education) Leadership from NASA Endeavor. As a band teacher, I was the named the Bay Guardian's "Best Justification for Music in the Schools" and was honored by the Mayor and state legislature after 13 years as conductor of the San Francisco Lesbian/Gay Freedom Band.
This is my sixth year teaching middle school math, where students teach me the importance and challenge of being yourself. I look forward to integrating many pursuits – music, engineering, science, history, psychology, and social justice – into a meaningful whole in the classroom.