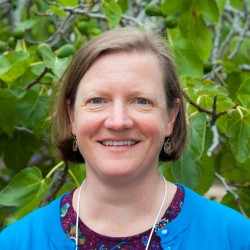 Petrina Grube
Spanish Teacher
I believe that learning is an adventure that we embark on together, and I am excited to join the thriving community at The San Francisco School.
My journey began in Portland, Oregon, where my Australian mom and German dad sparked my passion for understanding other cultures from an early age. Learning Spanish in school awakened my interest in Spanish-speaking cultures in particular.
Using Spanish to bridge cultures and work for social justice is a passion that continued through my educational and professional path, including volunteering in Mexico with Amigos de las Americas in high school, majoring in Latin American Politics at Pomona College, living in Venezuela for a year, working with the day labor community in San Francisco, teaching K-8 Spanish for 12 years at St. Vincent de Paul School, and participating in short-term service learning experiences in Peru, Nicaragua, El Salvador, and Panama.
When not teaching Spanish or traveling, you may find me biking the streets of San Francisco, running the trails of the Presidio next to my Richmond District home, or practicing ukulele with my husband Roger as we try to pick up our first instrument ever! I'm delighted that SFS shares my passion for environmental stewardship, social justice, and creativity, and I look forward to seeing where our adventures take us together.