COVID-19 Health Updates
Updates and information about The San Francisco School's continued preparedness, action, and response to COVID-19.
This website contains information on the state of the virus on The San Francisco School (SFS) campus, an overview on the School's actions to protect the health of the community, and general information about COVID-19.  
Last updated March 30, 2020, at10:00 am.
There have not been any confirmed or presumptive cases of COVID-19 on The San Francisco School campus.  The coronavirus epidemic continues to progress locally and worldwide, and the wellbeing of our students, families, and staff is paramount. The campus has been closed to students and families since March 13, 2020, 5:00 pm.  
Given the March 25 public health mandate issued by San Francisco County (as well as five other Bay Area counties), The San Francisco School aligns with the social distancing, stay at home strategy by closing our campus until May 1. Our Distance Learning Program, SFS School on the Go, will remain in session.
SFS Calendar:  Closure, Cancelations, Postponements, and Adjustments
Sunday, March 29 - Friday, April 3
8th Grade Trip - Postponed to Sunday, May 3 - Friday, May 8
Monday, March 30 
Middle School Student-led Conferences, times TBD
Wednesday, April 1 - Friday, April 3
6th & 7th Grade Trip - Postponed or Canceled (TBD)
Thursday, April 2
5th Grade Parent/Guardian Share, 8:30 - 10:00 am – virtual
Monday, April 6 - Friday, April 10
Spring Break (No SFS School on the Go)
Monday, April 13
Professional Development Day (No SFS School on the Go)
Tuesday, April 14
SFS School on the Go Resumes
Campus closed until Friday, May 1
Monday, May 4
Campus reopens
Recent SFS ParentSquare Updates
February 26, 2020.  Coronavirus Update
March 5, 2020.  Healthy Habits and the Emergency Communication System
March 6, 2020.  Event Cancellation
March 8, 2020.  Distance Learning Plan : School Continuity
March 12, 2020.  School Closed Starting March 13 at 5:00 pm
March 13, 2020.  Here We Go!
March 15, 2020.  Flattening the Curve
March 16, 2020.  SFS Extended School Closure
                           Back to SFS School on the Go, Preschool & Kindergarten
                           Back to SFS School on the Go, 1st - 3rd Grade
                           Back to SFS School on the Go, 4th - 5th Grade
                           Back to SFS School on the Go, Middle School
March 20, 2020.  TGIF(I think?) and Distance Learning Plan Survey
March 25, 2020.  Campus Closure Extension
March 27, 2020.  Spring Break and Sustaining our SFS Community
SFS School on the Go
SOTG is an innovative way of providing online instruction, and we are hoping to hear your feedback.  Please complete this SFS Distance Learning Feedback Survey  so that virtual school can continue as smoothly as possible next week.
If you are experiencing a problem that isn't solved by refreshing the page, please use this simple form called Tech Support for Families  to request technical help from Afandie and Carly.
Supporting Your Student During School Closure
The Family Association has compiled a toolbox for structuring schedules and supporting each other during the school/work week, helpful apps for kids, and on-/offline activities for the whole family called The Family Association Toolbox: Online and Offline Activity Ideas and Resources .  If you have suggestions to add, please email FA leadership at FA@sfschool.org.
We recognize that distance learning is often not easy, and we are mindful of the socio-emotional impact that distance learning may have on students. To maintain as calm and normal a learning atmosphere for the students as possible, please partner with us in the following:
 *Establish routines and expectations for your children when working away from school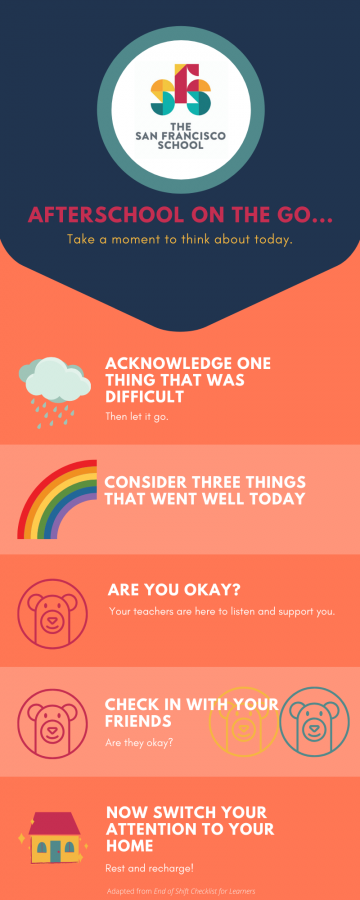 SFS Afterschool on the Go checklist
 *Define a physical space for your child to study/learn at home
 *Monitor your child and teacher communications and peer-to-peer digital interactions
 *Check-in/review the daily learning plan (& check-in "afterschool")
 *Encourage exercise and physical activity beyond what the school assigns
 *Be aware of stress and concerns from your children
 *Monitor time spent online, either for school work or on social media
 *Establish rituals or times of day that you are unplugged and away from technology
 *While keeping your children social if possible, set rules for social media interaction
 *Take a laughter, breathing, or gratitude break
 *Ask for help
Our school counselor Laura McGourty is pulling from various mental health resources in order to support our students and greater community during this time of distance learning.  She is currently working with other school counselors to put together a list of mental health activities, mental health resources, and parenting support. She will share these through Advisory and Wellness/PE portions of the SOTG schedule.  Laura is available during her usual hours by email lmcgourty@sfschool.org (Monday, Tuesday, and Thursday, 8 am - 4 pm).
Our Special Programs Director Sharon Ng and her staff are creating an exciting learning experience for students with their beloved extended day teachers (see below).  More soon!
Useful websites
Infectious Disease and Healthy Habits with Monica Gandhi, MD, MPH
Monica Gandhi, MD, MPH, presented to the K to 8th grade students and staff on March 5.  The recordings and slides are linked below.
Dr. Gandhi is an SFS parent as well as a Professor of Medicine and the Associate Division Chief (Clinical Operations/ Education) of the Division of HIV, Infectious Diseases, and Global Medicine at UCSF/ San Francisco General Hospital. 
If your emergency contact information has changed since the beginning of the school year, please update it.  Log into SFS Today, then select Update Information > Required Forms > Student Health Tracker > Vital Health Record, and edit Health Emergency Contacts.