Sean Hurd '08
Digital Media Associate at ESPN
Sean Hurd '08 was first introduced to journalism during a Middle School Job Shadow Day while attending The San Francisco School. Now more than a decade later, Sean works as a Digital Media Associate at ESPN in Bristol, CT.
Sean transferred to SFS in 5th Grade along with his sister, Misha Hurd '05. As a 6th grader, Sean spent two days shadowing journalists at The San Francisco Chronicle. In high school, Sean joined Lick-Wilmerding's student newspaper, eventually becoming the Editor-in-Chief.
For Sean, the culture at SFS nurtured his creativity and pushed him to explore new interests. It's no surprise that one of his favorite projects was a poem he wrote in 8th Grade Humanities. He valued the feedback and support he got from Michelle Yi-Martin, 8th Grade Humanities teacher, and eventually turned the poem into a song he dedicated to his grandmother.
As an undergraduate student at George Washington University, Sean majored in Exercise Science while pursuing extracurricular opportunities in journalism and performing arts. Motivated to build on his prior journalism experience, Sean interned at Major League Baseball Media and ESPN's "Around the Horn". He contributed to The GW Hatchet, the university's newspaper, eventually leading sports reporting as the Sports Editor. Sean was also a member of GW's hip hop dance troupe, Capitol Funk, ultimately becoming the captain.
After graduating in 2016, Sean joined ESPN for a 12-month rotational program. His first rotation was with espnW, covering sports events and happenings on social media for "The Buzz" and where he also expanded coverage of dance. 
His second rotation was with "The Undefeated", an online media platform focusing on the intersection of sports, race and culture. In his recent coverage of the growing number of Black women in soccer, Sean saw the impact SFS humanities classes have on his current work.
"I learned the histories that I'm writing about now and the diversity of cultures that were brought into the classroom has an influence on the work I do now."
Sean's experience with the SFS curriculum and school culture contributed to his world view and now he's uses that understanding in his sports coverage.
Sean is wrapping up his third rotation in the NBA department where he is editing stories from national writers covering the basketball season. Once the rotational year is over, Sean hopes to continue writing for "The Undefeated" or focus on athletic injury reporting.
Sean credits SFS for pushing him out of his comfort zone and to think creatively. To this day, Sean carries that creativity with him. "In my job now, I don't write anything unless I come up with it myself."
Read Sean's work here.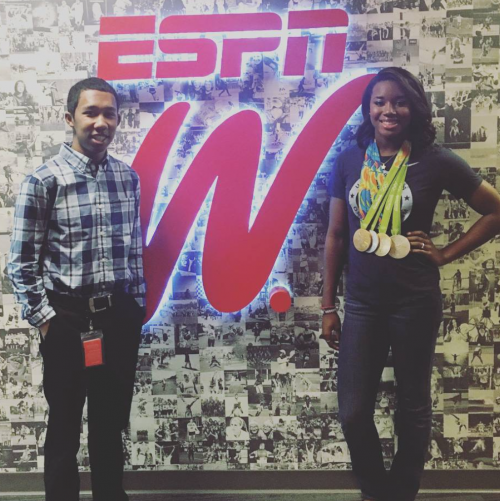 Sean Hurd '08 (left) and Olympian gold medalist Simone Manuel (right)
Misha Hurd '05 (left) and Sean Hurd '08 (right)
Posted June 30, 2017