Flora & Fauna:  The 2nd Annual Portola Library School Art Exhibit
Tagged with:
SFS, Alta Vista, and E.R. Taylor students exhibited their work in an interscholastic art show.
By Jeanie Chang, Vice Chair, Board of Trustees 
On Thursday, April 19, the 2nd annual Portola Library School Art Exhibit officially commenced.  A joint exhibit by the SFPL, the San Francisco School, Alta Vista School, and E.R. Taylor, the artwork represents the myriad of plants and animals found in San Francisco's Garden District.  
At the opening reception, Portola Branch Manager and Children's Librarian Nicole Termini Germain welcomed the students, families, and staff to the interscholastic show, declaring that at her library, art was accessible to all and provided the opportunity for the neighbors to connect.  Local muralist Nico Berry (SFS parent '19 and '24) presented his work which frequently integrates the natural life of the Portola, including his collaborations on campus with SFS students. He discussed the process, community engagement, and subject matter of his numerous paintings, from five different continents to here in the Bay Area and specifically the Portola.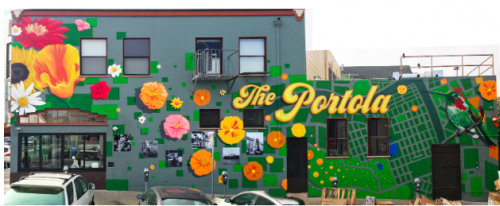 Mural by Nico Berry, Thornton and San Bruno Ave, 2016.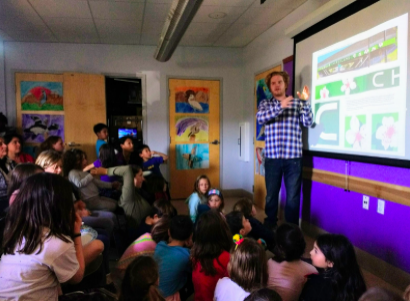 Muralist Nico Berry speaks to children and adults about the challenges of mural art.While Alta Vista elementary students created detailed scientific illustrations of rare, endangered California plant species, E.R. Taylor students created bright, whimsical cherry blossom pieces to celebrate spring.
SFS students from several grades contributed their work.  The seventh graders studied owls and three dimensions through two different techniques.  First, they created owl images through repousse, a metalworking technique in which a malleable metal is shaped by hammering from the reverse side to create a low relief design.  They then reinterpreted their owl images through ceramics to produce the complex form of teapots.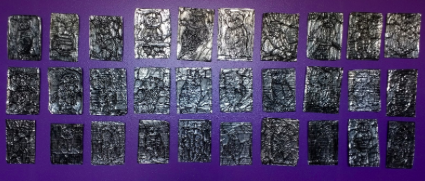 Owl repousse by the 7th Grade, on view in the Portola Meeting Room.The third graders created beautiful woven pieces by upcycling twigs & yarn remnants, resulting in beautiful textile art that reflects the natural and cultivated color and beauty of San Francisco's Garden District.
Finally, the second graders incorporated their study of birds into vivid watercolor paintings representing the many species native to the Bay Area.  They also designed ceramic teacups and saucers that portray much of the flora and fauna from the land, sky, and sea of the Portola and beyond.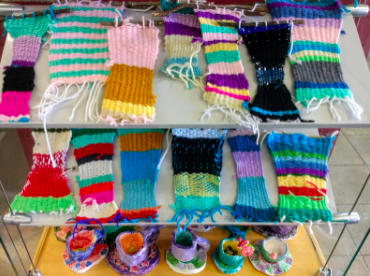 3rd Grade tapestries and 2nd Grade teacups with saucers, representing the vivid nature of the Portola.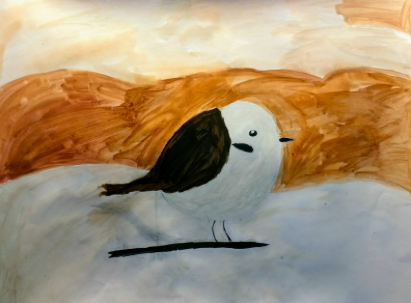 2nd Grade snowy plover watercolorMuch of the SFS student work is also on display in a satellite location at 2636 San Bruno Ave., the storefront for the future home of Churn Urban Creamery.  
Exhibits through the summer at the Portola Branch Library, 380 Bacon St, and at the future home of Churn Urban Creamery, 2636 San Bruno Ave.
Posted April 24, 2018