Spanish Department Presentation Inspires Board of Trustees
Tagged with:
By Jeanie Chang, Vice Chair, Board of Trustees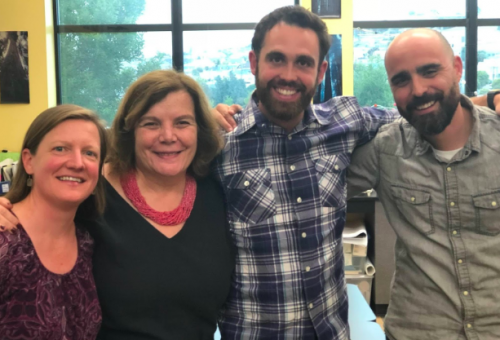 The SFS Board of Trustees held its final meeting of the year on May 14th. Amidst the tributes made to the departing trustees for their service and the routine business of the board, the Spanish department awed trustees and administrators with its presentation on the innovative direction it has taken over the past year. Teachers Sofia López-Ibor, Dimitri Barton '08, Manuel Cases, and Petrina Grube enthusiastically shared their philosophy, goals, and accomplishments this year.
The Spanish department was reimagined during the spring and summer of 2017. Each with unique international experiences and expertise, three new teachers were recruited to create a diverse and collaborative teaching team. They have developed a new paradigm in teaching, largely modeled on the success of the music program. In the new Spanish departmental office at 311 Gaven, they meet regularly, work closely, and spontaneously brainstorm on providing creative, meaningful, and differentiated instruction.  
Based on standards established by the American Council on Teaching of Foreign Languages and curricular ideas from the California World Language Content Standards, they have developed multidisciplinary lessons with language arts, science, visual arts, and music, working collaboratively with each other and with other faculty members. Some of the innovative methods and concepts they have used this year include co-teaching with students; combining different ages and levels; teaching topics other than Spanish in Spanish; authentic cultural lessons; infusing Spanish into the culture of SFS; and connecting with Spanish-speaking communities in our own city and beyond through field trips, service activities, and virtual visits with students and families in other countries.
The Spanish faculty has embraced many of the initiatives of our strategic plan, especially those related to Spanish language, global programs, and deepening the partnership with San Francisco and the Portola. One example is through the elementary students' observations of neighborhood houses and businesses in the Portola, interpreted through the dioramas currently on display in the Karen Goodkin Gallery. Look for more examples of the Spanish Program's growth in the upcoming Gaven Street Gazette!
Trustee Cathy Manshel (Parent '16 and '20) was thrilled to have the Spanish faculty present their work to the board. "It is really working at the class level; kids are excited about learning Spanish at SFS at a range of levels," she commented. "This team has worked incredibly hard to get where we are today. Their collaborative approach, from tapping internal leaders to developing curriculum and teaching Spanish with inspiration, creativity and passion, is so exciting. Working as a team to build this program is a great model for our teachers and our kids."
Posted May 22, 2018