Doug Goodkin Wins Distinguished Service Award
Tagged with:
Read on to hear his global colleagues' beautiful words about his years of service!
On Thursday, November 8, SFS Music Teacher Doug Goodkin received the American Orff-Schulwerk Association Distinguished Service Award, which SFS Music Teachers Sofía Lopez-Ibor and James Harding presented to him at The American Orff-Schulwerk Association (AOSA) organization's National Conference in Cincinnati, Ohio. Over 1000 music teachers from all over the country were in attendance at the conference, and messages of love and celebration poured in to Doug from every corner of the globe.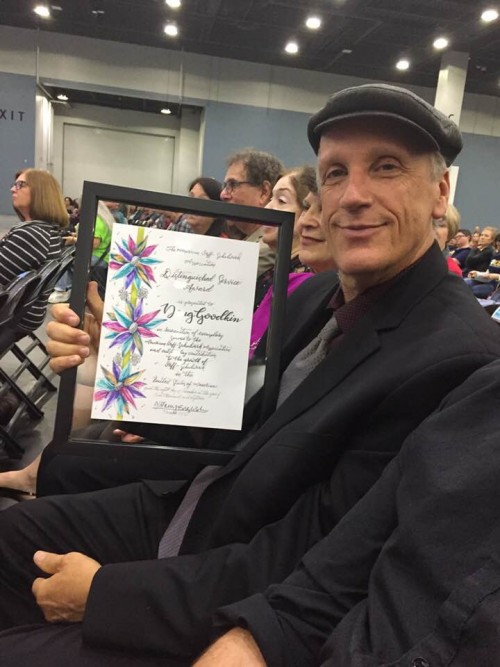 One message came all the way from Ghana, from Dr. Kofi Gbolonyo, founder and director of the Nunya Academy and the Ghana School Project, and dear friend of The San Francisco School:
Big congratulations to you, Maestro Doug Goodkin. You are THE Adidotsi (Baobab tree). Your contributions to education in general will continue to spread and to from generations to generation. You definitely are one of the people that have inspired, influenced, and touched me in many ways in life. May this well deserved award keep you going and encourage you to continue doing the great works and to continue to positively influence many more people. Aboka, adrika na wo (lit. "more grease to your elbow")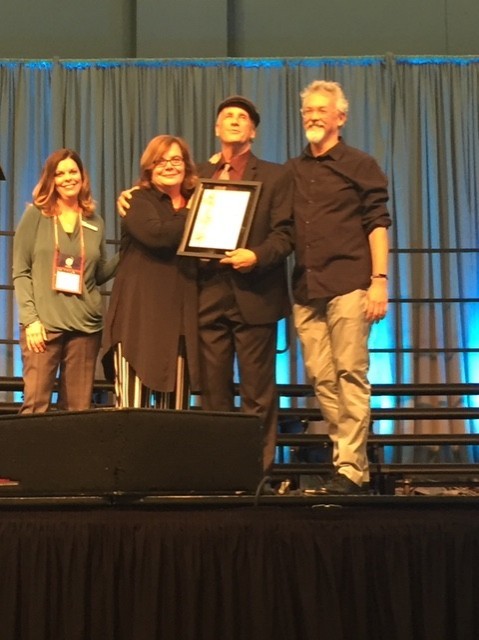 Sofía and James spoke in honor of Doug at the ceremony. Below is a transcript of their speech, "What You Might Not Know About Doug Goodkin."
Sofia: You might not know about the "grey rug." This is the one on the floor of the music room at the San Francisco school, where Doug has been teaching for the past 44 years, sitting "criss-cross applesauce" with circles of children, making music with the same excitement and dedication that he gives to his workshops all around the world. 
James: You might not know about Doug's stillness. You might not realize that this man of great action starts his days in the quiet realm of meditation. Doug has cultivated his mind through a disciplined writing practice, through voracious reading, through lifelong piano study, and all of this has honed his attention into a keen instrument that serves him in his teaching, his insightful articles, and his Jazz improvisations. Who else but Doug can recite by memory the list of all the AOSA National Conference locations since Las Vegas in 1984? Doug remembers them well because he has not missed a single conference since then and has frequently served as a presenter, panelist, and performer.
Sofia: It might surprise you to learn that Doug is quite conservative…about some things. The same Doug who passionately preaches educational revolution can be an equally passionate preserver and defender of tradition.  
James:  In an age of accelerating innovation, Doug articulately defends the timeless, elemental wisdom of Orff Schulwerk principles. Doug knows the power of tradition and ceremony, and he has created and preserved many beautiful ones at our school:
Sofia: …the reverent silence for the youngest child playing the gong to start the year…
James: the spine-tingling musical power of one hundred children performing "Intery Mintery" at Halloween,
Sofia: …the exuberance of our yearly Samba Contest, and the righteous solidarity of the Earth Day rap.
James: There are some things that everybody knows and loves about Doug; that he is not afraid to speak his mind, that he is a fiercely proud Grandpa to Zadie and Malik, and that he can't talk about his mentor, Avon Gillespie, without shedding grateful tears.
Sofia: Dear Doug, we hope that you know, that after many, many years of working side by side with you we are pleased, humbled and honored to be standing up here with you as you receive this award.
Both: Congratulations!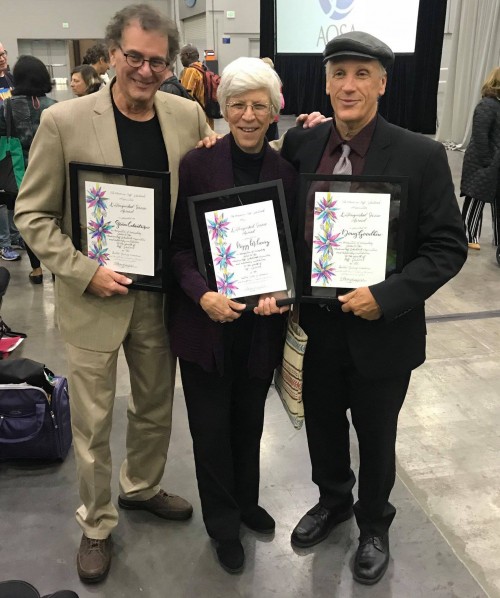 In addition, the President of the American Orff-Schulwerk Association wrote this beautiful letter about Doug, to be shared with our community:
It is my great pleasure to inform you that your very own Doug Goodkin has been selected as one of the American Orff-Schulwerk Association's Distinguished Service Award recipients for 2018. The Distinguished Service Award is intended to recognize and honor those who have supported the mission of AOSA through exemplary service at the national level and who have contributed to the growth of Orff Schulwerk in the United States.
To familiarize you with our organization, the American Orff-Schulwerk Association is a professional organization of educators dedicated to the creative music and movement approach developed by Carl Orff and Gunild Keetman.
Our Mission is: to demonstrate the value of Orff Schulwerk and promote its widespread use; to support the professional development of our members; and, to inspire and advocate for the creative potential of all learners.
Doug has worked tirelessly to promote Orff Schulwerk not only in the United States, but has done so internationally. He regularly gives workshops for Orff Chapters throughout the U.S. and Canada, as well as presenting at State and National Conferences including over 20 AOSA Professional Development Conferences. He is an internationally recognized Orff Schulwerk teacher, teaching courses throughout Europe (Austria, Canary Islands, Czech Republic, Denmark, England, Estonia, France, Finland, Germany, Hungary, Norway, The Netherlands, Greece, Iceland, Italy, Poland, Portugal, Russia, Scotland, Slovenia, Spain, Sweden, Switzerland and Turkey), Asia (China, Japan, Hong Kong, India, Indonesia, Korea, Malaysia, Philippines, Singapore, Taiwan, Thailand, Vietnam), Australia (Sydney, Adelaide, Perth, Brisbane, Melbourne), New Zealand, Africa (Ghana, Morocco, South Africa), South America (Argentina, Brazil, Chile and Columbia). He is the director of The San Francisco Orff Certification Course and teaches his own course on Jazz and Orff Schulwerk in San Francisco and other places including (Argentina, Brazil, Colombia, Halifax, Iceland, Finland, Montreal, Taiwan, Thailand, Toronto, Winnipeg, Vancouver).
Doug served as the President of the Northern California AOSA Chapter, 1987-1989. He also served on The Orff Echo editorial board, 2000-2004.
Doug is the author of eight books on music education: A Rhyme in Time, Name Games, Sound Ideas, Play, Sing and Dance: An Introduction to Orff Schulwerk (Schott), Now's the Time: Teaching Jazz to All Ages, Intery Mintery: Nursery Rhymes for Body, Voice and Orff Ensemble, The ABCs of Education: A Primer for Schools to Come, All Blues: Jazz for the Orff Ensemble and soon to be published Music from Five Continents: Volume 1-Pentatonic and Teach Like It's Music: An Artful Approach to Education, all through his own company Pentatonic Press. He writes on ongoing blog titled "Confessions of a Traveling Music Teacher," has given a TEDx talk on the importance of music education and begun his own Podcast Series. He is an author of the Macmillan/McGraw-Hill textbook series Share the Music and a contributing author in various collections: Many Seeds, Different Flowers (De Quadros; Cirme), Creativity in Music Education (Sullivan/ Willingham, C.M.E.A.), Music of the World's Cultures (ISME). Doug has written numerous articles on Orff Schulwerk in contemporary culture, published in the Music Educators Journal, Orff Echo, The Ostinato (Canada), Informationen (Austria), New South Wales Bulletin (Australia) and The Orff Times (England).
Doug is particularly known for his innovative application of Orff Schulwerk to the teaching of jazz and multi-cultural music and his ideas connecting Orff Schulwerk to the greater world of education, culture and human potential. As described by one student: "His work conveys a long, earnest and continuing struggle to present music of integrity in a way that affirms our collective humanity."
I know you and the faculty of The San Francisco School are incredibly proud of Doug Goodkin and join AOSA in extending hearty congratulations to him on the bestowment of this award. The Distinguished Service Award is an incredibly special award and is given to only the most exceptional of AOSA members. Doug will be presented with this award at our 2018 Professional Development Conference in Cincinnati, Ohio in November. We are very pleased to be able to honor Doug in this manner.
Respectfully,
Tiffany English
President, American Orff-Schulwerk Association
We couldn't be prouder of Doug!
Posted November 13, 2018