Headspace: A Reimagined Curriculum Guide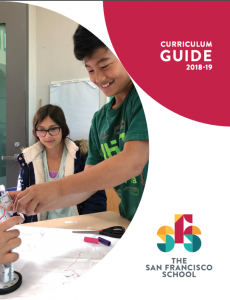 I am so excited to share with you our reimagined K-8 Curriculum Guide, which is the result of a great deal of collaborative, interdisciplinary work on the part of our faculty and staff! This document represents our effort to capture a huge amount of written curricular material in a bite-sized, easily "digestible" format. Not only does this make it more accessible for families, but it also makes cross-grade collaboration easier for our faculty and serves as a helpful map when revising and growing our program.
As we note in the introduction, we have chosen to focus on the grades traditionally considered "Elementary" (K-5) and "Middle" (6-8) in this first iteration, and look forward to expanding the Guide to include Preschool - and more - in future iterations! You can find an electronic version here; if you're interested in a hard copy, we have plenty available at the Front Desk, and are also happy to send a copy upon request.
We're thrilled to present all of the wonderful learning that's happening at The San Francisco School in this new format!
Posted February 05, 2019