Headspace: Earth Week at SFS - Doing Our Part!
Could we have asked for a more beautiful day to start Earth Day 2019, and SFS's Earth Week? With the campus sunny and in full bloom, and with two different types of kids frolicking in the Adventure Playground (yes, the baby goats are back!), it's easy to look around and remember how important it is to protect and preserve our environment. In fact, our Strategic Plan demands that we do it! 
At SFS, many would say it's always Earth Day - not many schools have committed to low-waste or waste-free lunches, composting before the city helped, a Walking School Bus…the list goes on. For us, this time of year is a great time to increase our awareness, efforts, actions, and to do just that little bit extra to try to have a collective impact. Our Earth Day preparations actually started back in March, with Family Association Activism Lead Hannah Denmark hosting an Earth Day Letters for Change workshop (full story here), focused around the climate crisis and raising student voices to bring about change. You may be pleased to know our students were remarkably well-informed. According to NPR, schools definitely can and should be making a larger effort to help students understand the major issues surrounding climate change. 
This week, we've expanded Earth Day into a full Earth Week, with themes for each day: today was Save Water, Tuesday is Save Electricity, Wednesday is Save Paper, Thursday is Walk/Ride/Public Transit Day, and Friday is Parks/Outdoors/Field Trip Day. Each class is celebrating in its own way; for example, 1st and 2nd Grades are focusing on the conservation aspect, such as working together to reduce electricity and paper use while noticing how often we default to using them in our daily lives. Or, 5th Grade is hard at work on a project designing and constructing scale models of energy-efficient tiny homes, after interviewing the lead architects for the Monterey Bay Aquarium's Bechtel Education Center about LEED-certified buildings, greywater systems, and net-zero building design. 
Last, but not least - while they may not be thematically linked to any one day, the baby goats we foster each spring from alumni family farm Toluma Farms & Tomales Farmstead Creamery have arrived! This is a wonderful project led by the 2nd Grade and Solveig Dimon each year, and a thrilling opportunity for students (and parents/guardians) of all ages. Please make sure to stop by the barn at the base of the Adventure Playground - no "kid"ding!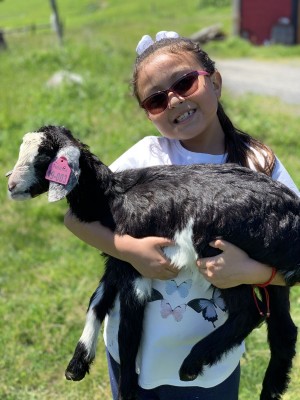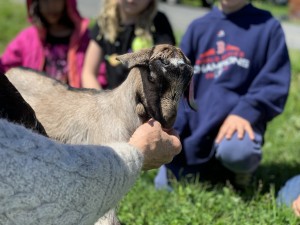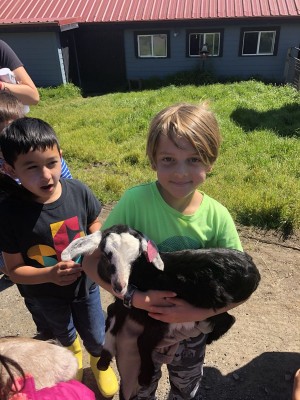 Posted April 23, 2019