"Guess What I'm Feeling?" SEL in the South Class
South Class Rabbits completed a big unit on feelings and emotional regulation last week!
By Christina Baum and Carla Morris, South Class Preschool & Kindergarten Head Teachers
The Rabbits completed their unit on emotions recently! We began the unit by reading the first of many books that discussed different kinds of feelings, and revisiting the Kimochis. For those unfamiliar, Kimochis are a wonderful communication tool in the form of stuffed animals with their own curriculum, books, stories, and filled with Feelings Pillows representing the variety of emotions that a person might be feeling at any given time. 
The Kimochi dolls made frequent appearances at circle time during our feelings unit. Students enjoyed having some silly moments with Huggtopus (a character with a big, sometimes too big personality who helps us discuss setting boundaries) and felt safe enough within their small group to share times when they felt sad while holding Cloud (known for some unpredictable moods). During one circle, each child passed Lovey Dove (who loves to celebrate others' accomplishments and share pride without bragging) around and gave a compliment to the person sitting next to them. A few of the ones they shared were, "You're a good friend," and "You're good at kicking the soccer ball." It was heartwarming to watch, and each child beamed after hearing positive things from their peers.

The Rabbits played a "Guess What I'm Feeling?" game where they would pull a feeling pillow out of a bag and act it out using facial expressions and body language for their friends to guess. They gave Oscar-worthy performances and enjoyed the activity so much that they asked to do it again the next day!
They also sorted feelings into two categories – feelings that they like having in their bodies and ones they do not. After we discussed each one, they agreed that all feelings are okay to have, and that none of them are permanent. They came up with their own ways of what they can do to move on or change how they are feeling.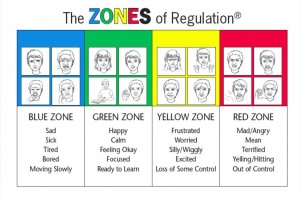 We also discussed the concepts of expected vs. unexpected behavior; small, medium, and big problems and how to react to them; and revisited the Zones of Regulation. They gave thoughtful input on how to get back into the Green Zone if they are in the Yellow or Blue, and we see them implementing their strategies and suggestions in class.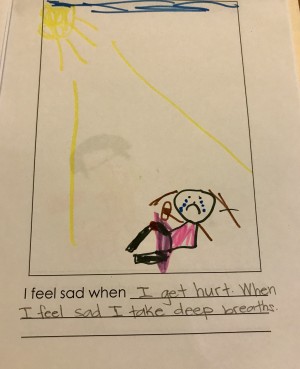 Here are some of our sample discussion questions that could be relevant for many ages:

Are all feelings okay?
What is one feeling that you like having in your body? What about one that you don't like having?
What can you do when you see that a friend is being left out?
What can you do to get back into the Green when you are in the Yellow?
What do you do when you are in the Red? (for instance, get a teacher or grown up)
It is okay to be mad, but not to be…? (for instance, "mean")
All of the students worked hard on their feelings books, and were excited to share them with their families!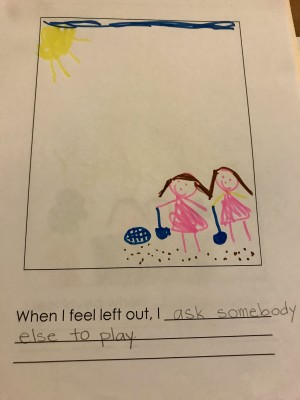 Posted May 21, 2019