Opening Painting Project 2022: The Artist's Hand
Tagged with:
Preschool to 8th Grade students explore their creativity through an SFS tradition
Every year, the students from Preschool to 8th Grade engage in a schoolwide tradition – Opening Painting Project. This year, the shared theme was entitled "The Artist's Hand," offering a wide range of creative interpretation and a good deal of challenge across all grade levels.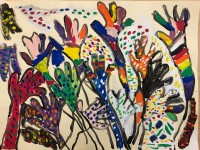 Using many types of media, each grade reflected on a different aspect of the theme – paper cutouts inspired by Henri Matisse; warm and cool colors; cultural embellishments of hands around the world; hands in activist and protest imagery; abstract radial designs and patterns; names and identity using American Sign Language; and whimsical 3D plaster sculptures.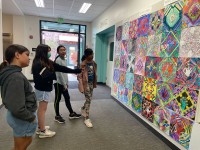 Through this time honored tradition, the students used creative expression and a growth mindset to learn new skills and try new things with amazing results.
For more images of the artists and their work, go to the gallery here.
Posted November 03, 2022