Nunya Academy
Tagged with:
A friendship, a collaboration, and a school in Ghana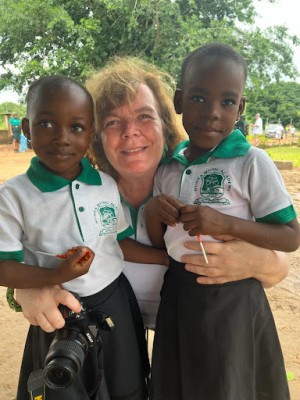 Nunya, adidoe: asi mesu ne o.
Knowledge is like a baobab tree: no one person's hand can encircle it all alone.
SFS students have been learning about West African dancing music since Sofía Lòpez-Ibor arrived at the school in the 1980s. In order to learn more about it she attended a Ghanaian summer course in Ewe musical traditions in 2001. She met Dr. Kofi Gbolonyo in the village of Dzodze in the Volta Region; at the time he was an assistant the music instructors, and she couldn't help notice what a natural teacher he was and that he had a passion for music education. They became friends.
Sofía was determined to support Kofi in his hopes to transform the lives of his fellow villagers. "To change one life is to change the lives of many," Sofía says, and she knew that in partnership with Kofi, she might change his life and the lives of the Dzodze villagers.
Music has to be recognized as an agent of social development in the highest sense, because it transmits the highest values - solidarity, harmony, mutual compassion. –Jose Antonio Abreu, Founder of El Sistema
Sofía introduced Kofi to Orff pedagogy, and he traveled from Dzodze to study in Salzburg. His time at the Orff Institute led to a scholarship at the University of Pittsburgh, and Kofi went on to earn his doctorate in ethnomusicology. He is now an Assistant Professor of Music and the director of the African Ensemble at the University of British Columbia, Vancouver. He continues to be a close friend and colleague of not only Sofía's, but also her SFS colleague James Harding and retired SFS music teacher Doug Goodkin. Together, they have collaborated in teaching music education around the world, including Orff Afrique courses in Dzodze. 
In 2013, Kofi established the Nunya Music Academy in Dzodze. Sofía has been a steadfast colleague and supporter, and as a result, she was crowned Dzodze's "Queen of Development" in 2016. In this role, she serves an ambassador and advocate for the village, and she has the great honor and responsibility of promoting Dzodze and its future.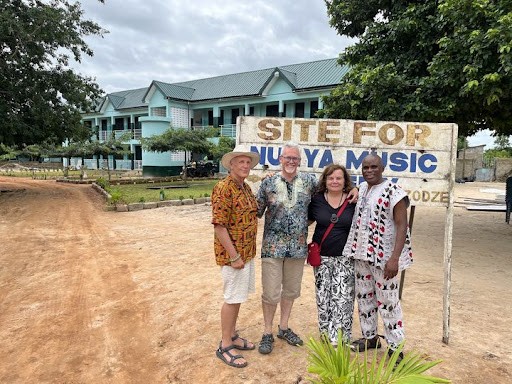 The academy has grown over time, but classes have been held outdoors and the teaching materials and instruments stored in homes. The need for a building quickly became apparent. To that end, Sofía, James, Doug, and The San Francisco School have contributed to fundraising efforts through several benefit concerts, and this past summer, the music teachers were incredibly proud to attend the dedication ceremony of the academy's newly constructed two-story building, with gifts of school supplies and notes of friendship from SFS students.
Nunya Academy's mission is to connect students to their heritage and to the world through traditional and innovative performing arts education. And although the academy began as a music school, its program has now expanded to include three strands: Creative Arts Education (Music, Dance, Drama, and Fine Arts); Maths, Information and Computer Technology Education; and Indigenous Knowledge and Language Education. Many of its 120 students, ranging from 8 to 26 years old, walk up to five miles to attend elementary, middle, or high school at Nunya. So in the spring, Sofía organized a successful campaign to purchase a bus for the school, which she hopes to deliver later this year.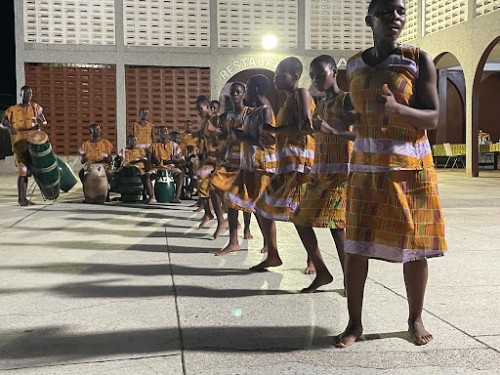 The work continues. Sofía's duties as Dzodze's Queen of Development inspires her to envision ways to improve the lives of the villagers. On her recent trip to Ghana, she was overwhelmed to reunite with the first generation of Nunya students who have had opportunities made available to them as a result of their education – graduates who have found professional work in music, teaching, and technology. Reflecting on the impact of her friendship with Kofi, Sofía simply states, "To change one life is to change the lives of many."
Posted October 19, 2023