Bears win 2023-24 SFAL Volleyball Championship!
Tagged with:
by guest writer and 8th grade parent Michael Siou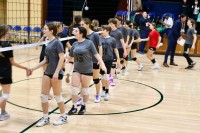 What an amazing season! This year's varsity volleyball team was comprised of 14 players – 7th and 8th graders, some who were returning 2022-23 JV champions and other who had not played competitive volleyball before. Coach Nate Pola took on not only the challenge of determining lineups, strategy, and player strengths but also the logistics of scheduling conflicts (many of the players participated in the intense rehearsals and performances of the Orff Ensemble). 
The season began with losses in the first two matches, but the Bears went on to win their next four matches, finishing with a 4-2 record. They earned a playoff spot during a hectic week amidst Halloween, student conferences, and the Orff Ensemble performance in Albuquerque, NM – and won! Their next playoff game was away at top-seeded Live Oak, but the Bears triumphed in three close sets.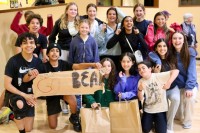 In the semifinal match against SF Friends School, supported by a crowd of cheering SFS fans, the Bears were victorious in two quick sets. Then on Friday, November 10, SFS faced Kittridge in the finals. Kittridge had defeated the Bears in the 2022-23 season.
Again supported (loudly and enthusiastically!) by a great mix of SFS fans (including preschool, elementary, and middle school students; parents and grandparents; and Head of School Juna McDaid, Head of Middle School Raquel Vizcaíno, and math teacher Jiazhen Zhang), the Bears went on to win the championship in two sets. Congratulations to the 2023-24 SFS Varsity Volleyball team, and thank you to all who supported them!

This season featured amazing community with high school spirit, team camaraderie… and carpools!     –Michael Siou
Posted November 13, 2023