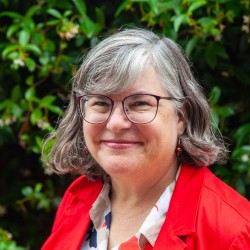 Anne Federwisch
Seventh & Eighth Grade Math Teacher
From the first time I stepped on the SFS campus, I felt welcomed, valued, and energized by faculty, staff, and students. Who wouldn't want to work here?
Although this is my first year at The San Francisco School, it will be my ninth year teaching Eighth Grade. In addition to classroom work over the last eight years, I have been teaching and guiding students through the high school admission process in San Jose. I estimate that over the years I have written almost 200 high school recommendations!
Before I was a teacher, I was a freelance writer. I wrote primarily for healthcare publications for nurses and therapists, but I also wrote for Santa Clara University and even a couple of articles for the San Jose Mercury News–including one on doing homework. Outside of work, I enjoy performing improv comedy with my team based out of the American Improv Theatre in San Jose.  
I'm so glad to share my love of learning math with my students!