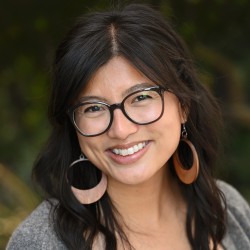 Angelica Faustino
2nd Grade Head Teacher
I'm deeply committed to seeing and creating a more equitable and just world for ourselves and our young people.
As a child of a navy sailor, answering the question "Where are you from?" is always a challenge for me. Despite where I've lived, the San Francisco Bay Area has always been home base for me; my family immigrated here in the early '80s, and it is the place I am glad to call my home.
I joined The San Francisco School in 2019, and am thrilled to be a part of this community. Prior to joining SFS, I worked with Pin@y Educational Partnerships (PEP), a partnership between public schools, universities, and the community with a goal of implementing a transformative, decolonizing curriculum. I have also taught Filipina/o American Studies and Foreign Language at Longfellow Elementary, and through PEP, oversaw program and curriculum development, and managed professional development opportunities for PEP colleagues at Longfellow. I also co-facilitated professional development for the Ethnic Studies Task Force at Malcolm X Academy.
I hold a Bachelor of Arts in Psychology from San Francisco State University, and am working toward my Master of Arts degree in Asian American Studies, also from SFSU.  When I'm not exploring with my students ways to create a more equitable and just world, you can catch me gardening or lounging out somewhere in nature.