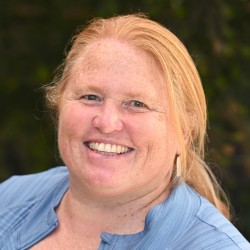 Carly Reiter
Director of Design, Engineering, and Technology
"To invent, you need a good imagination and a pile of junk." Thomas A. Edison
I grew up in the swamps of North Florida, exploring the lakes and rivers with my shoes off, breaking gender barriers on the soccer field, and falling madly in love with every animal I could find.  As an educator, I believe in the power of leading by example, and can often be found getting my hands dirty alongside students and teachers.
I began my teaching career in the South Bronx, using the nearby Bronx River as our science lab.  Even after moving to Seattle in the late 2000s, I continued to bring the outside world into my classroom; I worked with students to explore the effectiveness of slug slime as an adhesive (note: it's not as effective as Gorilla glue, but better than white glue).  I eventually transitioned to teaching engineering and technology classes because I saw the power those platforms provided for student creativity, exploration, and invention.  
Over the next decade, I grew into roles as the Dean of Academic Innovation and the Director of Academic Technology at the Seattle Girls' School.  I created and managed all aspects of the school's integrated STEAM program, served as the Accreditation Coordinator, was co-chair of the Curriculum Council, and led the Banana Splits Affinity Group (a support group for students with divorced parents). 
I hold a Master of Science in Education from City University of New York, a Bachelor of Science in Zoology from the University of Florida, and am also a trained Software Engineer.  And, even after all these years, I still enjoy a good soccer game, the unconditional love of animals, and any adventure - especially ones that involve mud between my toes.