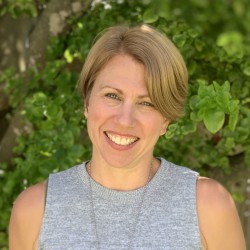 Denise Gonzalez
2nd Grade Teaching Assistant
I feel privileged to be part of a community that values the individual and strives to cultivate creative and intellectually curious students and staff, while working hard to make sure that diversity and inclusion are inherent to our culture.
I grew up in a small beach town near Jacksonville, Florida, and later pursued a degree in Graphic Communications from Clemson University. After moving to Atlanta and starting a family, my husband was offered a position in San Francisco, and we jumped at the chance.

We have now lived happily in Pacifica for ten years. Our youngest is in fifth grade, and our two oldest are in High School. For the past four years, my daughter's elementary school entrusted me with the opportunity to teach and develop a choice-based art program for its 500+ students. Through art, I witnessed the magic of learning that happened through experimentation, trying new things, collaboration, and problem-solving.

After finding my happiness teaching children and being with children, I am thrilled to be working towards my Masters of Education and Multi-subject credential through Holy Names University and BATTI's (Bay Area Teacher Training Institute) two-year program.

This year I will be working as a teaching assistant for second grade alongside the amazing Lisa Ma.
I love second grade and cannot wait to see what this year holds.