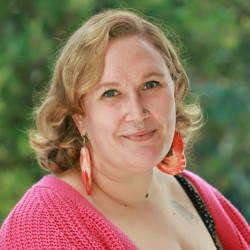 Sara Knight
Kindergarten Teaching Assistant
What I love about The San Francisco School is that students and staff alike are given daily opportunities to learn and grow into our best selves.
I grew up in the East Bay in a large blended family, raised by a group of best friends that really took the "it takes a village" viewpoint to heart. I graduated with my BA in Drawing and Painting from San Francisco State University in 2013 and my MFA in New Genres in 2018 from the San Francisco Art Institute. Prior to joining SFS, I was an art teacher at a local preschool after realizing the museum world was not for me.
When not teaching I am a part of the San Francisco Poster Syndicate, providing free posters for protests and union action throughout the Bay Area. I am also a founding member of IAFS, a free art school focused on higher education as mutual aid. I spend much of my time sewing, gardening, and baking.