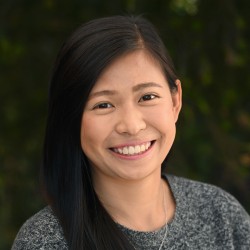 Diane Cho
Technology Services Coordinator
SFS is not only a place of learning but also a tight-knit community, one where its members embody the school's mission and values everyday. Whether in a classroom or not, my hope is to support the school community and serve as a helpful resource to everyone.
I was born and raised in San Francisco and have called the Bay Area home for many years. I even went to college in the Bay Area–I majored in Cognitive Science and minored in Education at UC Berkeley (Go Bears!). Throughout college, I enjoyed working with youth as a mentor in various capacities, and that led me to my first job as a middle school educational advisor for the JCYC College Access Programs, where I coordinated programming to get students thinking about their paths to higher education. A few years later, I spent three years at Tenderloin Community School as the technology coordinator through the Bay Area Women's & Children's Center, where I taught computer science to K-5 classes along with supporting the school with its technology needs. Now, I'm excited to be a part of SFS as it continues to develop its campus and programs in new and exciting ways! 
Fun facts: I speak Cantonese and went to Chinese school for nearly a decade growing up. Some things I enjoy doing are listening to podcasts, playing the guitar, and discovering new food spots. Also, I am receiving my M.S. in Instructional Design and Technology from Cal State Fullerton in spring 2022. I'd like to think that I am a learner at heart!