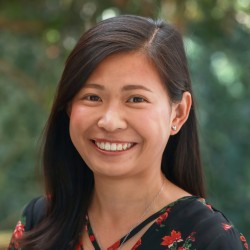 Diane Cho
Technology Services Coordinator
SFS is not only a place of learning but also a tight-knit community, one where its members embody the school's mission and values everyday. Whether in a classroom or not, my hope is to support the school community and serve as a helpful resource to everyone.
I was born and raised in San Francisco and have called the Bay Area home for many years. I even went to college in the Bay Area–I majored in Cognitive Science and minored in Education at UC Berkeley (Go Bears!). Throughout college, I enjoyed working with youth as a mentor in various capacities, and that led me to my first job as a middle school educational advisor for the Japanese Community Youth Council College Access Programs, where I coordinated programming to get students thinking about their paths to higher education.
I also spent three years at Tenderloin Community School teaching computer science to K-5 classes along with supporting the school with its digital learning needs. Most recently, I completed my M.S. in Instructional Design and Technology from Cal State Fullerton. I'd like to think that I am a learner at heart, and I bring the growth mindset with me each day at SFS.