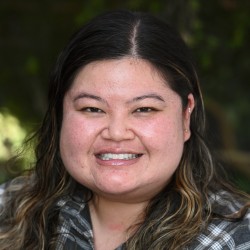 Katrina Morales
Interim 7th Grade Humanities Teacher
I am a "wannabe" wordsmith who enjoys learning about current hip slang to the etymology of words.
I was born in Angeles City, Pampanga, in the Philippines. I grew up in Daly City where I attended a Catholic grade school and public high school. Realizing I wanted to explore the rest of the state, I ventured south to study at UCLA and graduated with a B.A. in International Development Studies.
As an undergraduate, I found joy in tutoring students in LA's Chinatown. My formal career in education began as an after school teacher at Paul Revere Elementary in Bernal Heights.  After, I worked as a middle school teaching assistant at the San Francisco Friends School which led me to pursue my masters at Teachers College Columbia in New York. I worked at the Dalton School and at Metropolitan Montessori as I lived in Harlem. 
Being satisfied with becoming half a New Yorker (it takes ten years), I made my way back to San Francisco to be closer to family and friends. I am ecstatic to be a part of the SFS village and be a part of a community that inspires global learners.  As a humanities teacher, I hope to provide windows and mirrors for students to learn about new cultures but also to share their own stories. I hope my students are able to write the words they cannot say. 
Outside of teaching, I like to try new restaurants, and I'm always excited to try new boba spots. I enjoy reading and traveling. I love laughing at witty puns or at stand up comedy shows.