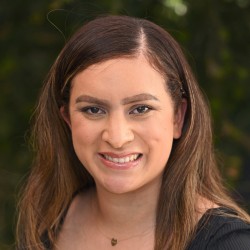 Adriana Valencia
Front Desk Coordinator
As the Front Desk Coordinator, I am excited to get to know the staff, children, and their families and be at the front of the school!
I am so excited to be a part of The San Francisco School Community!  I have been in the education field since 2014. I was an infant toddler teacher for six years, an inclusion specialist, and more recently a care coordinator, supporting families in getting special education services and educating parents to become their child's best advocate.
 
I am a Bay Area native, and I hold a bachelor's degree from San Jose State in Child & Adolescent Development and an M.Ed. in Curriculum & Instruction with an emphasis in Autism Spectrum Disorders from Arizona State. In my spare time, I love to look for new food places to try, enjoy cooking with my stepmom (who is the most amazing cook), and spend time with my family and best friends.