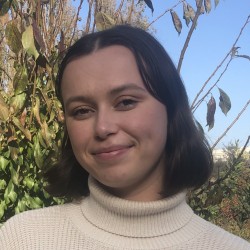 Cressa Wilmoth
Kindergarten Teaching Assistant & & Extended Day Instructor
I am so excited to be a part of the SFS community as a Extended Day Instructor and substitute teacher!
Born and raised in Long Beach, California, I have been in San Francisco for the last four years. I recently graduated from The University of San Francisco where I majored in Media Studies and Music. Growing up with my mother being a high school English teacher, I have always had an interest for education, collaborating with others, and connecting with students. 
I played on my high school soccer and swim teams and played the cello in my school's orchestra where I got to perform at Carnegie Hall! During my time in college, my love for teaching grew and I have had many opportunities to explore my passion. I was an assistant teacher for summer programs at the Long Beach Yacht Club, where I assisted in the day to day activities of the classroom. I was a soccer coach for the nonprofit organization Girls Leading Girls, as well as a an after school tutor at 826 Valencia.
In my free time, I enjoy going on long walks in Golden Gate Park, watching new movies with friends and family, playing soccer on at beach, and wrapping up at home with a good book.