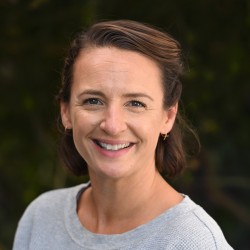 Talia Goodkin '98
5th Grade Humanities Teacher
Alumna, Class of 1998
Talia attended Lick-Wilmerding High School, Tufts University, and got her masters through BATTI. She taught first grade for four years in Buenos Aires, Argentina, as well as a variety of Bay Area schools, but no community felt as "just right" as The San Francisco School, the one she came from.     
"I am thrilled to be a teacher here, with the freedom to shape the curriculum based on my students' interests, the remarkable opportunities to collaborate with colleagues to deepen learning, and the sincere faith I have that the entire SFS community is truly living out its mission statement and cultivating the kinds of citizens who we trust to inherit this world."
When out of the classroom, Talia loves: games, games, and more games (less strategy ones, more license-to-act-a-fool ones), long backpacking trips, running trail races, yoga, writing, creative dinner solutions with a sparse fridge, and constantly spinning the globe to land on the next big adventure that will launch her outside of her comfort zone.