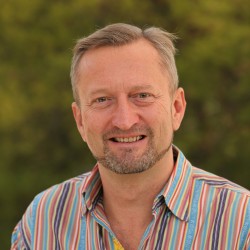 Harald Fröhlich
Preschool & Kindergarten Head Teacher
What I love most about the San Francisco School is the respect everybody has for one another and the commitment to inspire learning and cultivate the humanitarian promise in everybody - students, teachers and parents.
I grew up in Germany where I graduated from a program at the Academy of Social Pedagogy in Nürnberg to become a certified Kindergarten teacher. Before I came to the United States I taught in an afterschool program and a center for youth. Instead of serving in the military I served for 16 months in a program that assisted disabled people around Nürnberg. I started working at the San Francisco School in 2002 and have since worked as a teacher in different positions throughout the entire preschool program from Extended Day to the North and South Class, the nap room and the Summer Program. I also had the role of Summer Program director for 6 years. 
I hold a CA child development teacher permit and I graduated from a 2 year American Montessori Society certification program in 2009. I am married to a wonderful husband and we became proud fathers of a beautiful boy in March of 2013.