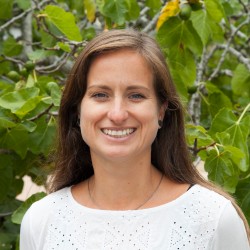 Christina Aguila
Interim Elementary Art Teacher
I look forward to working with SFS children this semester, seeing them grow as artists, and getting to know them better so I can help support them in their creative process.
I grew up in Santa Rosa with a twin sister and two loving parents. I have a Bachelors in Painting (UC Santa Cruz) and have completed a Graphic Design certificate program (UC Berkeley). I hold a Single Subject Teaching Credential in Art and I am half way through getting my Masters in Education through Dominican University. 
Outside of my teaching experiences I continue to paint and show my art in in the Bay Area. Whatever time out of the week is left, I spend creating and continuing my personal work. I am currently working on the series Synchronous that is inspired by the fundamental relationships of the natural world and its many ecosystems. I love to be out in nature, whether it is hiking or riding my bike. It inspires me to create and gives me inspiration and a sense of peace with its great beauty.