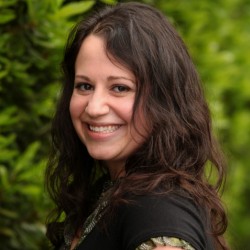 Melissa Holman-Kursky
First Grade Co-Teacher
I am excited to be back in the classroom at the most wonderful school there is!
I was born and raised in San Francisco, and am a proud product of SF independent schools (Burke's and University High School). I spent my collegiate years at Tufts University outside Boston, earning a BA in Drama and English, and taught at the university's preschool in my senior year. Afterwards, I spent a year teaching at the Bank Street School in New York before returning to Tufts for a dual master's degree in Child Development and Education. After a decade back East, I returned to San Francisco and was thrilled to find the SFS community. This is a place that mirrors my deeply held beliefs about social justice, diversity, and a foundation in the arts as part of any great education.

After seven years as SFS's Fourth Grade Teacher, I spent two years in the role of Communications & Marketing Manager. In the fall of 2019, I was thrilled to return to the classroom, and my early childhood education roots, as Co-Head Teacher in the First Grade. Outside of school, I've spent nearly 20 years as a professional improv performer, nonprofit theater owner, marketing director, and corporate trainer, and have enjoyed bringing all of that experience to my work at SFS.  I love incorporating improv into school life, and have found that improv helps children (and adults!) to become better, more empathetic communicators, more flexible thinkers, and more resilient in all areas. I also love spending time with my husband Paul and our son, who is a member of the SFS class of 2028!